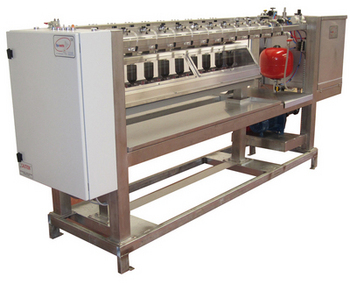 Sysmetric Dripper Flow Tester
The Sysmetric Dripper Flow Tester can test any type of emitting device from drip tubing and drip tape to button drippers and sprinklers. Using load cells to measure the collected water allows a very high accuracy of flow measurement in the shorter possible time because up to 10 samples can be tested simultaneously at the same pressure.
The testing machine is ISO 9260 and ISO 9261 compliant. Standard testing diameters from 12-25 and others available upon request. Tests are fully programmable with up to 30 different test pressures times. Each test produces a report which includes graphs and statistical analysis such as exponent and CV.